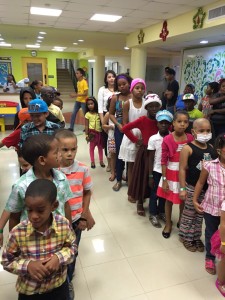 The mission of the Foundation "Angel De Esperanza" is to help as many poor children as possible with terminal Cancer in the Dominican Republic, through donations of medicines, foods and toys , to bring some relief and hope to these children who have no one to help them. The aid sent will be received and distributed by Congregation of nuns, "The Servants of Mary", which are dedicated to the service and patient care in several countries, including the Dominican Republic.
La misión de la Fundación "Angel de Esperanza" es ayudar a la mayor cantidad de niños pobres enfermo de cáncer terminal en la República Dominicana, a través de donaciones de medicinas, alimentos y juguetes, para brindarles un poco de aliento a estos niños que no tienen quien les ayude.
La ayuda enviada, sera recibida y distribuida por "Las Siervas de Maria", una congregación de monjas, que de dedican al cuidado de pacientes con enfermedades terminas en varios países , incluyendo la República Dominicana.