Nació en la ciudad de La Vega, República Dominicana un 1 de Agosto , 1964. Angela considerada por su esposo, padres, hijas , familiares y amigos, como un ejemplo de mujer integra, e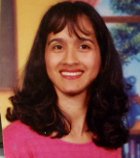 xcelente hija, madre , esposa, y una incondicional amiga. Estuvo casada con el Sr. Aridio Genao, procreando a sus adoradas hijas, Ariela y Laura. Vivió durante su vida de casada en la ciudad de Miami, Florida, y estuvo dedicada al magisterio en la escuela elemental "Milan". Concluyó su paseo terrenal el 9 de Noviembre, 2004 a causa de un "Tumor Cerebral", el cuál acepto y manejó con mucha sabiduría, resignación y valentía. En su menoría hemos creado esta fundación , "Angel De Esperanza", para ayudar a los niños menos privilegiados con cancer terminal en la República Dominicana.
Born in the city of La Vega, Dominican Republic on August 1, 1964. Angela considered by her husband, parents, daughters, family and friends, as an example of integrating women, good daughter, mother, wife, and an unconditional friend. She was married to Mr. Aridio Genao, procreating their beloved daughters, Ariela and Laura. He lived during her married life in the city of Miami, Florida, and was devoted to teaching in school Milan Elementary School. She concluded her earthy tour on November 9, 2004 due to a "brain tumor", which accepted and handled with great wisdom, courage and resignation. In her memory have created this foundation, "Angel Of Esperanza" to help underprivileged children with terminal cancer in the Dominican Republic.